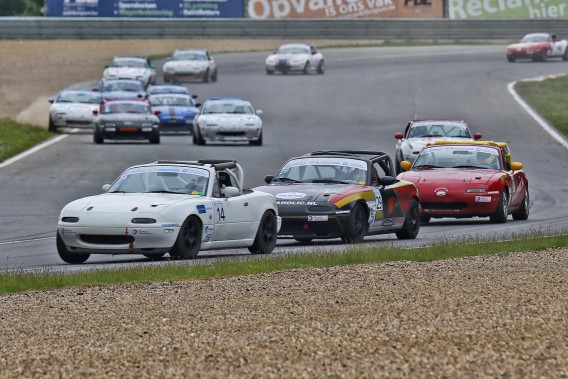 The second event of the 2016 season took place at Zolder. This is the track where I drove my first real race back in 2014. The atmosphere at the track is always nice. It is situated in a forest and you smell the nature. That is, until that smell gets replaced by the one of burning rubber. Track time is always limited here, so this time only two races and one qualifying.
Qualifying started out pretty well. Forming a train with IL-Motorsport friends Rudy and Chris, I was able to string together a bunch of fastest laps at the beginning of the session. However, the track got a lot faster over the course of the session. At Zandvoort, this is not really the case and your first laps are usually the fastest, before everything starts overheating. With the track becoming so much faster and being unable to get in a clean lap, I dropped back in the order to 10th.
In the race I was able to gain a couple of positions until I got in a battle where I tried to overtake coming into the second chicane. The track was very dirty as the Belgian marshalls don't seem to clean between sessions. With my left wheels on the dirt, I lost the car trying to make the apex. Rejoining in 12th, the race was pretty much over.
After the race, I discovered that the left front brake pads were completely shattered, while the right were like new. The result of a faulty brake caliper. With the help of star mechanic Hans, the car was ready in time for race two.
Race two was pretty good, climbing up to 6th position after which everybody was lapping the same lap times and the gaps remained equal.
All in all a disappointing day for me, as I hoped to be fighting for podium spots. The next event, the Max Verstappen days at Zandvoort will be big, so focus on that now.